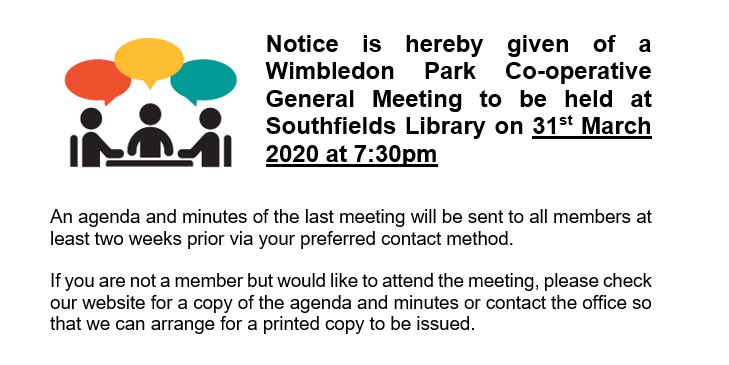 Wimbledon Park Co-operative General Meetings
Do you want to know what's going on where you live?
Do you have questions about the estate and it way it's managed?
Have you got suggestions for improvements?
If the answer is YES then why don't you come along to our next general meeting?
The general meeting is your chance to meet the board and understand their role is shaping the estate. Don't miss out on your chance to be involved and really make a difference to the area you live in.
All residents of the estate and absent leaseholders are invited to attend general meetings
Only members will be eligible to vote on matter raised at the meetings
If you would like to become a member, please contact the office. Lifetime membership is only £1
Only one person per household is permitted to become a member and you cannot hold a joint membership.
Minutes of the previous meetings can be found here.
If you require a paper copy of the agenda or minutes, please don't hesitate to contact the office and we can arrange for this to be provided.
2020 General Meeting Dates
Tuesday 31st March 2020 7:30 PM @ Southfields Library
Wednesday 1st July 2020 7:30 PM @ Southfields Library (AGM)
Wednesday 23rd September 2020 7:30 PM @ Southfields Library
Wednesday 2nd December 2020 7:30 PM @ Southfields Library
Please note that all dates are provisional and subject to change. Any changes to meeting dates will be advertised with no less then two weeks notice.